Autism Therapy Center to Connect Kids with New Ways to Learn
January 24, 2022

This article was written by Scott Luxor and published by the Sun Sentinel on January 13, 2022.
A new center for families with children on the autism spectrum is coming to Deerfield Beach this month. 
Butterfly Effects has corporate offices in 12 states, but the Deerfield Beach location is its flagship operation nationally. While the new therapy center will be the third in the United States, it is the only one in Florida.
The center's goal is to offer stable, consistent, well-equipped therapy and learning environments free from distractions for children ages 2 to 5. An advantage of having a large center, the company says, is that it can facilitate a better transition to a traditional school environment.
Butterfly Effects has been providing in-home Applied Behavior Analysis therapy for children on the spectrum for over a decade. Since its founding in 2005, Butterfly Effects has served over 10,000 families in 12 states and it currently has over 100 client families in South Florida.
Steve Woolf joined Butterfly Effects as its president in 2018. He spent much of his career working with children with autism, both as a therapist and as an administrator.
"I've worked with all kinds of kids and I've done every job, including toilet training," Woolf said. "I've done all the gritty work that got me here. So we hire a lot of people who work with disabled kids and I can identify with every single one of them."
He said he hopes the center can help bring new methods and tools, partly through the socialization that naturally occurs in a center, as opposed to in-home therapy.
"The center is for kids with intensive needs, who need maybe around 30 hours of service a week," he said. "The research says that, when you look at intensive services, you get big outcomes if you do it early, and you do it often. So usually it's two to three years of intensive services so that our kids make significant gains."
Woolf said that they combine the center component with at-home therapy for comprehensive service.
He said he has noticed an uptick in the prevalence of autism spectrum disorder in the U.S.
"The rates of autism have been growing significantly over the last few years," he said. "The latest CDC report is that one in 44 children are diagnosed with some kind of autism on the spectrum. It used to be one in 54."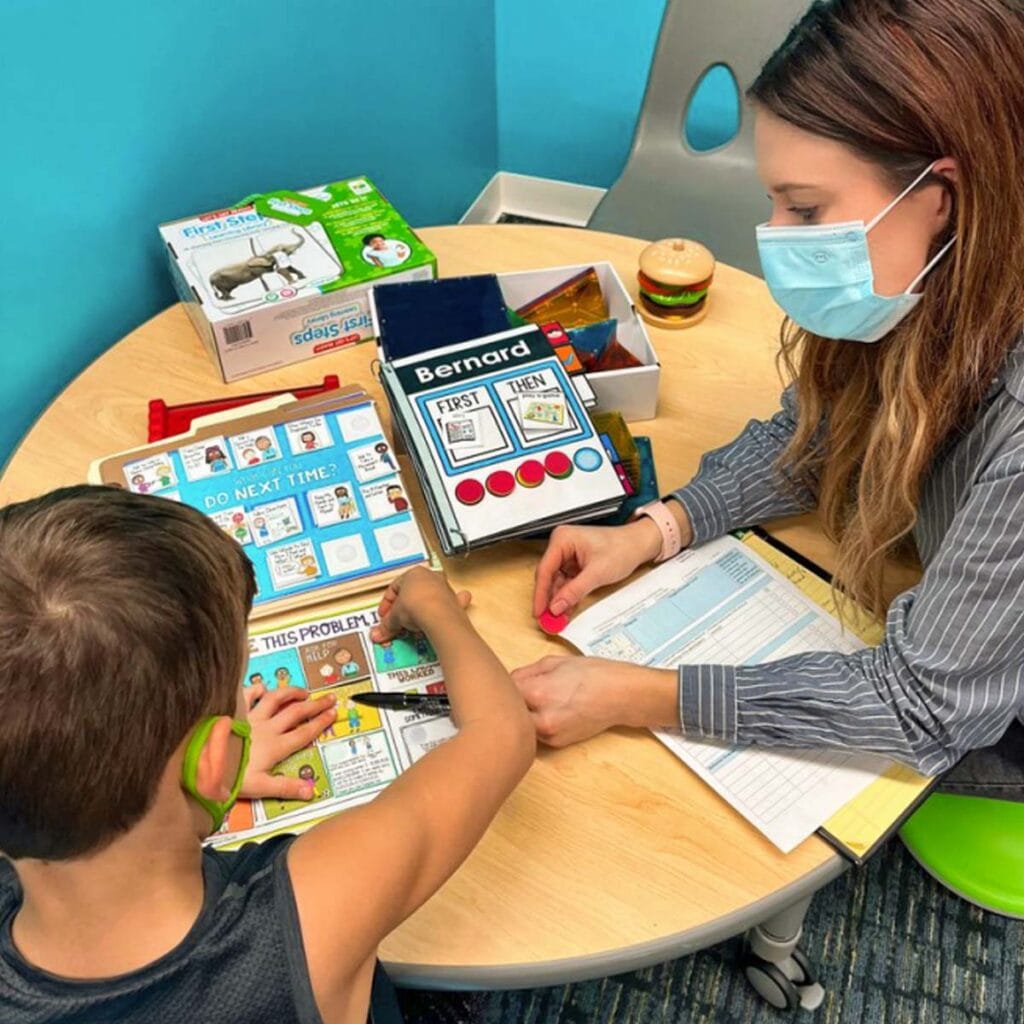 Like most parents and people who pay attention to ASD, the specific reasons for the increase is somewhat mystifying, even for specialists like Woolf.
"No one knows why this is happening exactly," he said. "A lot of people believe we're simply getting better at diagnosing it. A lot of people believe that there could be something in the environment that's causing it, but we just don't know."
There have been more opportunities for businesses who want to make a difference with autism because there has been cross-partisan attention given to the disorder throughout the country.
"Over the last five years or so, almost all of the states now have something called an autism mandate," Woolf said. "What that means is that health insurance has to pay for these evidence-based autism client services. And that is why the field has exploded."
Until recent years, Woolf said that most health insurance policies didn't cover the disorder.
"That created a disparity between people who were wealthy and had autism versus not," he said. "We make it a special point to make sure we take Medicaid insurance and coverage like that so we can help all families."
Woolf said that he focuses on bringing in Board Certified Behavior Analysts who have at least master's degrees.
"The kids who are going to come to our new center are going to be surrounded by very high-level people who care," Woolf said. "So this is going to our pilot project, where we get it right. We look at clinical outcomes all the time, and then we're going to replicate this all across the country."
One parent's testimonial
Andrew (last name withheld), whose son Bernard gets treatment at the center, lives in Boca Raton.
"I will tell you that within one year of Butterfly Effects working with Bernard, I've found really dramatic improvement in all of his behavior and his communication," he said. "They've helped create some of these guidelines and protocols to use different types of tools."
They have created a customized way for Bernard to learn.
"Because of the therapy, we even have a schedule now for taking showers, which eases his anxiety," Andrew said.
Because of the collaborative nature of how the BCBA therapists work with the children, he said that he feels more empowered to find ways of raising Bernard.
"Butterfly Effects has given me the opportunity to really teach me as a parent how to handle everything with my son," he said. "It's just so rewarding, and so much fun."
Andrew said creating a place where parents and kids on the spectrum can socialize will be an important addition to the therapy that is already provided.
"I think that the new center will definitely create a place where the kids can learn social skills, along with different types of group activities," he said. "It will be good for my son because he will be able to connect with others and it's a great complement to the treatments we do at home."
Meet an expert
Kristina Wong is a BCBA-D, which means that she not only has a master's degree, but she also has a Ph.D. Wong recently moved to the Deerfield Beach clinic from New York City to join the company.
"One of the things that's so special about the newly built center is that we're situated right next to our corporate office," she said. "I think it is wonderful because you have the top clinical leaders of the entire company just a few feet away."
Wong used to work as a special education teacher with all of her students affected by autism. She said that one of the parents' major concerns was the inability to build a support group to have friends, which will be addressed at the new center.
"Most of these kids rarely get invited to birthday parties or playdates," she said. "Being able to have a center where they can come and build an inclusive environment, where they can be there for one another and create these meaningful and lasting relationships, is going to be so amazing."
As for the future of the center's success, Woolf said his vision isn't about the company as much as it is about the kids.
"Our goal also is to teach these kids essential skills so that later down the road, they don't need us, and they don't need special education or extra support," he said. "I want them to be able to live an independent life that they choose. So a lot of future dividends will be paid off here."
The new center will offer interactive technology, a language enrichment corner, flexible group learning spaces, learning pods for 1:1 teaching with a therapist, a play area with a replica kitchen and store, dress-up clothes and other toys, and sensory and gross motor zones that allow for development of motor skills.
For information about the center and enrollment, call 888-880-9270, email clientservices@butterflyeffects.com or click here to inquire online.